Detective Constable Degree Holder Entry Programme
Recruiting now for our Degree Holder Entry Programme as a Detective Constable
Recruitment is now open for degree holders(DHEP) into the Detective Constable role. To apply click the link below.
If you'd like to find out more about the role before you get started, sign up to one of our awareness events by following the link below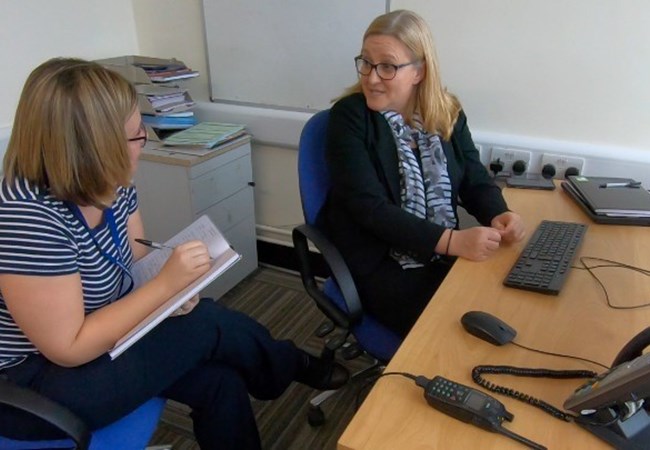 What will your first case be?
Traditionally, a route to becoming a detective would involve gaining prolonged experience of uniform policing. In 2019 we changed that, with our first group of new joiners who upon completing their training, will go straight into a Detective role.
What does a detective do?
Detective constables and police constables have the same rank. They have different operational roles, but there are also lots of similarities too, albeit detectives don't wear a uniform. Detective constables ultimately deal with serious and complex investigations. In this interesting and exciting role, you will be working on varied investigations, which could include serious assaults, domestic abuse, fraud, burglary, robbery and knife crime. You could be working to safeguard a child or adult, and you could be pushing a case through the courts, ensuring that you get the right outcomes for the victim, their family and in the process making your community safer.
Being a detective is all about uncovering the truth, while identifying and managing any risks. You'll do this by analysing evidence, talking to witnesses and building trust within the community. You will talk to lots of different people, and have the compassion and skills to deal with some difficult situations.
Ultimately being a detective is about the management of investigations. Much of the relevant material will be gathered by other officers whilst your responsibility will be to understand that material thoroughly and identify the evidence within it. On occasion, as a sworn officer you may be required to make arrests, search people and places, deal with conflict, and respond to incidents. However, the majority of your work will be based around managing investigations, interviewing suspects, and preparing cases for crown court.
Once a qualified and well experienced detective you may choose to apply for specialist detective roles within the police. Some of these roles move away from the management of investigations into other areas including teams dealing with specialist investigation, intelligence, and covert tactics.
Recruiting now for our Degree Holder Entry Programme as a Detective Constable
Recruitment is now open for degree holders(DHEP) into the Detective Constable role.
To apply click the link below.
As a new Detective Constable you'll follow a two year training plan, learning on the job from experienced colleagues. This will be supported by training from our in-house team. After 37 weeks you'll reach independent patrol status and when you finish your training you'll have earned a graduate diploma in Professional Policing Practice. The first year of the programme requires successful candidates to develop core knowledge and skills in a uniform role in the same way as any officer. Your starting salary will be £24,780 and £25,902 in year two. Within seven years of joining the salary will be £41,130.
In year 2 you will be working in an investigation arena where you will enhance your skills in investigation practices and safeguarding.It doesn't matter what subject your degree is in. The important thing is that by earning one you've already demonstrated the ability to research, evaluate and present evidence.
Participants on the programme are required to pass the National Investigators' Exam (NIE) at the end of 12 months of the programme and achieve full Professionalising Investigation Programme Stage 2 (PIP2) accreditation by programme completion.
Throughout the two-year programme, participants will have the opportunity to evidence what they and their colleagues have achieved on behalf of communities and victims at Impact Events.
A workforce that reflects our communities
Our ability to build trust, understand problems and support our communities across a range of policing matters, relies on us having a workforce that is reflective of our communities and all the unique individuals that exist within them. We are committed to promoting equality and diversity within our workforce and to eliminating discrimination.
We are very keen to encourage applications from those that have never considered policing as a career. Representation within our workforce from black and minority ethnic communities and females is currently much lower than we want it to be; by improving this we will be better able to serve our local communities and our work place will benefit from all the differences in thinking, points of view, and approaches that diversity brings.
In order to achieve this we are proud to pursue a policy of 'positive action'.
For further information and to register for this scheme please click the button below.