Police Community Support Officer (PCSO)
What does a PCSO do?
Working as a PCSO is interesting and varied. Every day brings fresh challenges and no two days are the same.
Our PSCO's tackle a wide range of community issues and are often the first uniformed presence at the scene.
PCSO's are highly visible and often the eyes and ears of both the public and the police and provide a vital link between partners, the local community and police teams across our force areas.
On a daily basis you may, carry out high visibility patrols, resolve problems concerning the local community, gather intelligence, deal with anti-social behaviour, preserve crime scenes and attend court as a witness.
You will need to be calm, confident and have a positive and mature nature, be a good communicator and be able to work well in a team and on your own.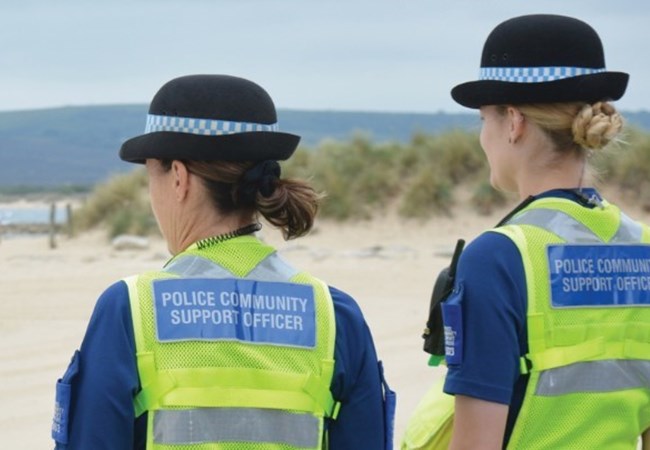 Ready for a Challenge?
Although we are currently closed for recruitment, you are able to express an interest ahead of our next campaign. By doing this you will be notified by email when we are next open for recruitment. To register your interest please click the button below.
Vital members of the Police Family
PCSOs form an integral part of Safer Neighbourhood Teams across the Force and work closely with local authorities, the business community and Neighbourhood Watch to ensure local issues are tackled effectively.
Patrolling on foot or by bicycle, PCSOs fulfil a number of important roles – from dealing with low-level crime and anti-social behaviour, to forging links with the public and business within their communities.
They are designated with a plethora of powers ranging from the removal of abandoned vehicles to issuing fixed penalty notices. They carry out a range of other duties that do not require the powers of a police officer, such as taking reports of low-level crime and protecting crime scenes.
PCSOs assist in supporting the delivery of our strategic aims of ensuring that our communities are 'listened to, understood, informed, protected and safe'.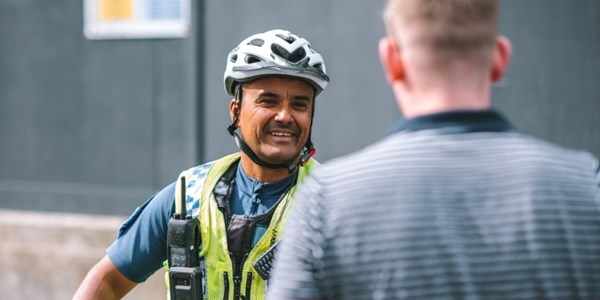 They work closely with regular officers as part of the neighbourhood policing team. Their role is to provide a highly visible and reassuring presence across the region.
PCSOs do not have the same powers as police officers. Instead they have a range of designated powers that reflect the role they perform.
A workforce that reflects our communities
Our ability to build trust, understand problems and support our communities across a range of policing matters, relies on us having a workforce that is reflective of our communities and all the unique individuals that exist within them. We are committed to promoting equality and diversity within our workforce and to eliminating discrimination.
We are very keen to encourage applications from those that have never considered policing as a career. Representation within our workforce from black and minority ethnic communities and females is currently much lower than we want it to be; by improving this we will be better able to serve our local communities and our work place will benefit from all the differences in thinking, points of view, and approaches that diversity brings.
In order to achieve this we are proud to pursue a policy of 'positive action'.
For further information and to register for this scheme please click the button below.
PCSO Entry Requirements
There is no upper age limit for applying to be a PCSO. In October 2011 the government abolished the rights of employers to set a default/compulsory retirement age for their employees. If there is a genuine occupational or health and safety reason that can be objectively justified employers can impose a compulsory retirement age. For example the case of a pilot who, in accordance with CAA regulations, is not qualified to operate in this role beyond the age of 60, unless there is a suitably qualified pilot at the controls, who is flying with them.

Devon and Cornwall Police have removed the default/compulsory retirement age from all police staff posts with the exception of our helicopter pilots. This legislative change does not prevent individuals who are members of the Local Government Pension Scheme (LGPS) from choosing to retire in accordance with the rules of the scheme. All employees can retire at age 65 should they wish to do so.

Note: changes are proposed to both the Police Officers and LGPS schemes and therefore the information above may be subject to change. Police staff and officers should consult gov.uk pensions for the latest information.
You must be a British Citizen, an EC/EEA national or a Commonwealth citizen or foreign national with no restrictions on your stay in the United Kingdom.
You do not need formal qualifications to become PCSO. However, your English should be proficient.
There are no height restrictions.
You must be physically fit and in good health and will undertake a fitness and swimming assessment. All candidates will complete a medical questionnaire and may be required to undertake a medical assessment.
All candidates will be subject to a pre-employment drugs test.
You must have good unaided vision, not suffer from any morbid eye conditions or any condition liable to aggravation or reoccurrence.
Severe colour vision deficiencies (monochromats) are not acceptable. However, other defects in colour vision will not be a bar to entry.
You must have good unaided vision, not suffer from any morbid eye conditions or any condition liable to aggravation or reoccurrence.
Severe colour vision deficiencies (monochromats) are not acceptable. However, other defects in colour vision will not be a bar to entry.
Tattoos on the face or neck are not acceptable for PCSOs, and any tattoos which could cause offence to any person will exclude you from applying. However all applicants will be assessed on an individual basis.
Candidates are requested to submit a colour photograph of all tattoos with their application.
Convictions or cautions will not necessarily exempt you from joining. It will depend on the nature and circumstances of the offence. Your application may be terminated if you fail to disclose any convictions or cautions.

We also have a policy of prohibiting any of our officers, staff and volunteers from becoming members of the BNP or similar organisations whose aims or pronouncements may contradict the duty to promote race equality.
We welcome applications from people with disabilities and will do all we can to make reasonable adjustments which will allow disabled applicants to undertake this role.
Please let us know if you have a disability and the type of adjustment which you might need to enable you to apply for and do the job.
For more information about becoming a Police Community Support Officer please visit our resource library.
PCSO Recruitment Process
Stage 1
Completion of application form
The first stage in the recruitment process requires you to complete an application form. Your answers to the competency based questions will help us to decide whether you have the skills and experience required to become a Police Community Support Officer.
This is a pass/fail element.
Stage 2
Force interview and Fitness test
The questions at the interview will be based on the competencies in the job description. The interview is expected to last up to 30-45 minutes.
The Job Related Fitness Test consists of one element designed to test your endurance.
Endurance Test (multi stage shuttle run)
Commonly called the bleep test, you will be asked to keep running between two points which are 15 metres apart. The speed you must run is dictated by a bleep, and the time allowed to run one shuttle will get shorter as the level increases.
You must reach Level 5.4 to pass.
Stage 3
Medical Assessment
The medical assessment stage of the recruitment process will require you to complete a medical history questionnaire and attend our Occupational Health Unit for a medical assessment which will include an eyesight test.
This is to confirm you are fit for duty as a PCSO.
Stage 4
Background enquiries
It is necessary for us to perform security vetting checks in line with Home Office policy and we also take up references from both current and previous employers/education establishments to cover the last 5 years.