Police Community Support Officer
The role of PCSO is challenging and rewarding where you will be involved in many varied situations and work with an array of other officers and staff throughout the organisation.
Below are some answers to frequently asked questions.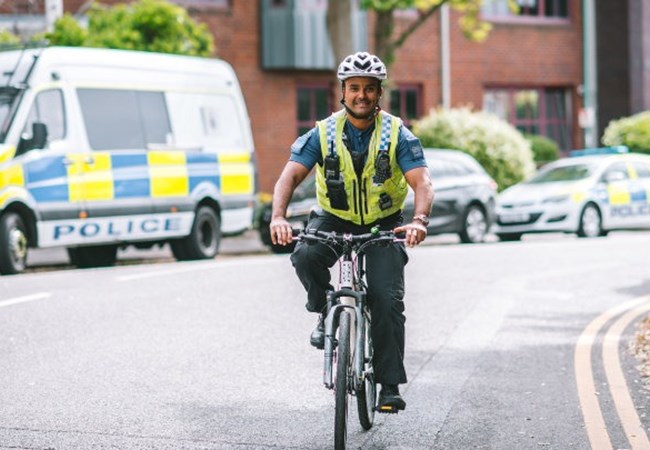 PCSOs do not have powers of arrest, cannot interview or deal with prisoners, can only investigate minor offences and do not carry out the more complex and high-risk tasks that police officers can perform.
The minimum age to become a PCSO for Dorset Police is 18, but you must also be able to demonstrate all the qualities that are required of a PCSO throughout the assessment process.
You must be a British citizen, an EC/EEA national, a Commonwealth citizen or a foreign national with no restrictions on your stay in the United Kingdom. You will be required to provide proof at any Assessment Centre that you have no restrictions on your stay in the UK and when assessing an applicant's eligibility under the nationality rules, the force will carry out a check either against a full passport or national identity card or, where this is not available, a Home Office document confirming the individual has the required nationality and immigration status for the post.
Irrespective of nationality, applicants must have been a resident in the UK for three years prior to submitting the application form and the calculation of the three year period of time refers to the period immediately before an application is made, and not any other 3 year period, or any other accumulation of time spent in the UK.
Foreign nationality is not an automatic bar to recruitment or to granting security vetting clearance (which is a necessary part of the recruitment process). However, if individuals cannot be vetted in line with the requirements of the National Vetting Policy, they cannot be granted vetting clearance, as the risk cannot be adequately assessed.
Essentially we will need to be able to carry out equitable security checks on you and your family members but in some cases due to disproportionate costs or difficulties in obtaining the necessary information from various countries of your origin or residency we may not be able to satisfactorily carry out these checks. In such cases the recruitment process cannot continue and it will be necessary for the force to reject your application.
Applicants must have resided in the UK for three continuous years immediately prior to application.
The criminal convictions criteria defined by the Association of Chief Police Officers (ACPO) vetting policy and Home Office circulars are used to assess each application on an individual basis. Eligibility will depend on the nature and circumstances of the offence. It is not possible to set out a full list of convictions that will preclude a person from becoming a Police Community Support officer.
Each case will be considered on its own merits, and if the offence is deemed sufficiently serious a person will be rejected irrespective of age at time of offending.
There may be circumstances where an individual does not fall within the criteria but whose suspected involvement in crime, or criminal associations make an offer of employment inappropriate.
Yes, you will be required to undergo a medical examination which will include an eyesight test. These will be carried out after the application and selection process.
Due to the nature and content of the post, applicants must be physically fit. The role also involves a large amount of foot and/or cycle patrol, and is therefore subject to all applicants passing a job-related fitness test, prior to appointment.
Your appearance should show that you are aware of the impression you make on other people, avoiding favoritism and offence at all times.
We judge every case on its merits, but you should be aware that some tattoos (whether visible or not) and facial piercings might be unacceptable. Tattoos are unacceptable if they are rude, crude, racist, sexist, sectarian, homophobic, violent or intimidating.
You do not need formal education qualifications to become a PCSO. However, your English should be proficient.
You will have a radio, possibly a mobile phone and a protective vest. As PCSOs are not used to carry out potentially confrontational duties, you won't use handcuffs, batons or incapacitant sprays.
No. You will spend over 80 per cent of your time on foot or cycle patrol. You can only build links with the public by being accessible and familiar to them.
No. You are an extra resource to complement and support regular officers.
Much of your time may be spent patrolling on your own. There will be occasions when you will patrol with other PCSOs, Constables and Sergeants as part of your neighborhood policing team.
You will also have opportunities to work with Special Constables and members of other warden schemes.
No. Police officers, not PCSOs, have the power of arrest. You may be given the power to require someone to remain with you for up to 30 minutes pending the arrival of a police officer, in certain circumstances. However, this is not a power of arrest.
Priority is given to operational and business needs in respect of which village/town you will ultimately be located to. should you be successful in the selection process your location preferences will be taken into account when considering where to post you. However, we cannot guarantee that we will be able to post you in accordance with your preferences.
PCSOs work varied shifts, mainly day shifts and late shifts. The day shift starts at 8am (some stations start at 9am) and PCSOs are expected to work until either 4pm or 5pm with a 36 min meal break. The late shift starts at 2pm (some stations start at 1pm) and PCSOs then work until 10pm, again with a 36min meal break. On occasions, staff are asked to work beyond 10pm for specific events or emergency situations, e.g. Fireworks event or directing traffic at a road closure following a road traffic collision.
The shift pattern is usually 6 days of working, starting on a Monday, followed by 2 rest days; then 4 days of working, starting on a Tuesday, followed by 2 rest days with a repeating cycle. Half of the shifts will be afternoon and evening working e.g. 2pm - 10pm, approximately 10 shifts per 28 days and the other half are made up of day shifts e.g. 8am - 4pm. Weekend working is every other weekend, either a day shift or late shift e.g. 1 day shift and 1 late shift per month.
Devon & Cornwall Police and Dorset Police does have a Flexible Working Policy in force. Any decisions in relation to this do have to take into account the operational requirements.
Please note that PCSO working patterns are subject to review. Any changes will be communicated to employees with appropriate notice.