Be a force for good
Are you ready to put your skills to the test and help your community, while doing something rewarding? Learn more in our FAQs below.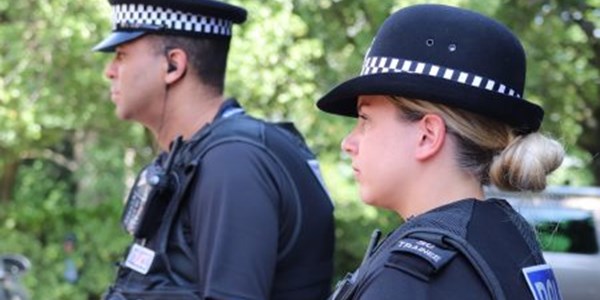 Special Constables (or "Specials") are volunteer police officers with the same power as regular officers. Specials spend around four hours a week supporting the police to tackle crime in their communities. They work in partnership with regular officers and the wider policing family.
Specials are sworn officers and have the same powers as a Police Officer.
Specials take part in frontline policing work. They can spend much of their time on the streets doing intelligence-based patrols in crime hotspots, or, taking part in crime-prevention initiatives. This could mean anything from keeping town centres safe at night, to conducting house-to-house enquiries or helping prevent vulnerable members of the community from becoming victims of crime.

It is hard, demanding work - but from your first day on duty you will see the impact you are having. It is also extremely varied and you could easily find yourself doing any of the following;
Ensuring public safety
Preventing crime
Tackling crime
Investigating crime
Securing convictions
Although they are not paid, Specials are provided with uniforms free of charge and are entitled to be reimbursed for any reasonable expenses.
Yes, you would be covered by Devon & Cornwall Police's insurance if you were injured on duty as a Special Constable.
You no longer require a driving licence to become a Special Constable.
The requirement is 16 hours a month and these hours are flexible around your work and home life. Its surprising how easy it is to fit in around your days. We have a number of companies that are signed up to ESP (Employee supportive program) which will allow you a set number of days a year to come and Police.
We require you to do a bleep test which is to 5.4 (equivalent to running 3 minutes and 30 seconds) You will also be required to carry out a push and pull test and be able to swim. These are all achievable with some preparation and are nothing to be worried about.
The requirement is 16 hours a month and these hours are flexible around your work and home life. Its surprising how easy it is to fit in around your days. We have a number of companies that are signed up to ESP (Employee Supported Policing) which will allow you a set number of days a year for policing duties and or training.
To find out more, click here for the ESP leaflet.
You don't need any qualifications to become a Special, however you will need to pass the assessment centre.
The force has an obligation, as it is publicly funded, to ensure that training, uniform and subsistence costs are not inadvertently misspent, which can often be the case when a candidate has dual applications.
As a force we are supportive of helping candidates meet their career objectives but this cannot be at the expense of tax payers' money. Therefore, you can complete the online parts of the Special Constable Recruitment process, including the Behavioural Styles Questionnaire, Situational Judgement Test and Application Form, however your application will then be paused until the outcome of your Police Officer application is known.
If you are successful we will wish you every success. If unsuccessful, you will then be able to continue the Special Constable process and your application may be 'Fast Tracked' depending on which stage of the recruitment process you have reached.
There is not currently a swim test.
Yes it does. You will be asked within the Medical History Questionnaire to indicate, for example, if you have had anxiety/depression, phobias, mental breakdown or stress related problems.
Please be completely honest when answering these questions and do not be concerned if you find yourself answering 'Yes' to a lot of questions. This is quite normal and does not mean that you are unfit for the job.
Following submission of your Medical History Questionnaire, even if you have ticked no for every question, you will receive a confidential call from our Occupational Health Team who will talk through your questionnaire with you. They will also use the opportunity to talk you through the process with you.
We currently have three intakes a year and everyone who meets the standard will be offered a place.
Yes, this is provided and does include boots. The main items of uniform provided are; body armour, handcuffs, baton, black wicking shirts, black trousers, white shirt, black tie, belt, torch, water bottle, fleece, waterproof coat, utility jacket and vest.
We will always try and post you to your nearest station. The maximum distance would be 30 miles from your home address but the majority of Special Constables are much closer than this.
You will be provided the opportunity to re-apply after 6 months.
At this time there is no fast track from the Special Constabulary to the Regulars in Devon and Cornwall Police, however becoming a Special Constable for a period of time will allow you to see if it is the right career for you and also to gain some great experience to take forward. We do have a number of Officers who choose to do this route into the Regulars but also have a lot of Career Specials who stay with us as volunteers.
The training consists of an online phase lasting 20 weeks followed by a practical phase lasting 8 weekends over a period of 4 – 5 months at Head Quarters. You will then be attested and sworn in as a Special Constable. Your training and development then continues when you start at the Station.
Once you have completed your initial training and completed your Police Action Checklist 1 (PAC1) this means you have reached accompanied patrol status. The length of time to complete this would depend on your hours, it can take 6-12 month, but you will be supported through it. Some Special Constables go on to complete PAC2 – Independent Patrol Status. There are opportunities after PAC1 to move into neighbourhood policing, roads policing, rural engagement and opportunities for other specialist roles continue to be explored. There are no Special Constables in Firearms in Devon & Cornwall at this time.
Some Special Constables align themselves with a response section and always work with that section, others prefer neighbourhood/community policing and work alongside the local neighbourhood team. If you are aligned to a section or a team, there is still the ability to get involved with different events or operations that are happening in your area.
Special Constables are eligible for basic driver training and this is usually available approximately 6-12 months after attestation, depending on the availability of courses.