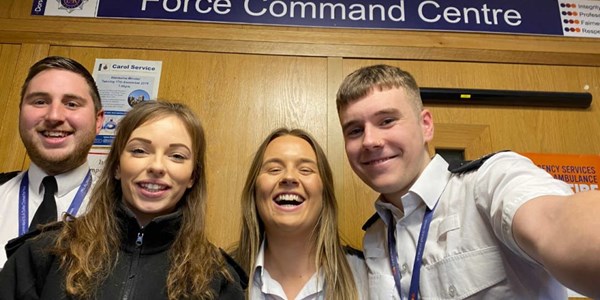 Hello, my names Joe, I'm 21 years old and joined Dorset Police at the age of 17 in 2016.
I joined Dorset Police as a Modern Apprentice and was allocated to work within the Duties department. I worked as part of a well organised team that managed the shifts, annual leave and sickness of the operational staff within Dorset Police.

For the majority of my apprenticeship in Duties I managed the duties of the Force Command Centre (FCC) where 101 and 999 calls are taken along with the dispatching of officers.

During my time in duties, I began to show an interest in working within the FCC in the future. This was picked up on by my boss and was arranged a short while later that I would go and sit with some FCC staff to gain some more understanding about their roles.

My apprenticeship ended in March 2018 and I applied for a role within the FCC as a Non-Emergency Call Handler working Monday to Friday, as opposed to shifts, as this fitted better with my social life. I worked as a 101 Call Handler for 2 years within the FCC and enjoyed the job on the whole. It felt good to know that I was talking to people who were, at times, in crisis or had been the victim of a crime and provided them with reassurance and advice about the process that would follow our phone call.

In March 2020 I felt like a new challenge and the opportunity arose to become a Non-Emergency Mentor. I decided I'd like to test my teaching skills and see if I was able to pass on the knowledge and information I had stored over my 2 years to somebody who had never done the job before. I was allocated a trainee and, for 10 weeks, we sat together every day while I provided 1 to 1 training in the world of Non-Emergency.

At the end of the 10 weeks, my trainee had successfully been signed off and it was deemed they were competent to work independently. I was offered the opportunity to continue mentoring and take another new recruit under my wing, however I was aware of another job opportunity that had arisen as I had been approached about applying for it.

Eventually, I decided that I'd like to apply for the new role as opposed to taking on another trainee. I was successful with my application and interview and was appointed as the new Systems Administrator for the Contact Management department.

I now work as part of a small team of 2 and provide the whole of the Contact Management department with support on the systems that they use on a daily basis. In addition with the day to day support, I am also set project work to investigate and trial new and innovative systems and software that the Contact Management department are considering introducing into their working environment.

I'm really enjoying my current role and excited to see where my future working with Dorset Police is going to lead.